We continue our practice of educating young and talented people and providing them with practical knowledge of the technologies that we are working with. This summer, four young interns got the chance to learn things such as React, Spring Boot, Elastics search, Scrum, Git, and Data analytics. The idea behind this internship is to let the young talents work on a real project.
However, working on a project is not the only thing that NIRI offered to them. In fact, we wanted to make sure that our interns get the full NIRI experience, with separate offices just for them along with all the equipment needed for working and learning.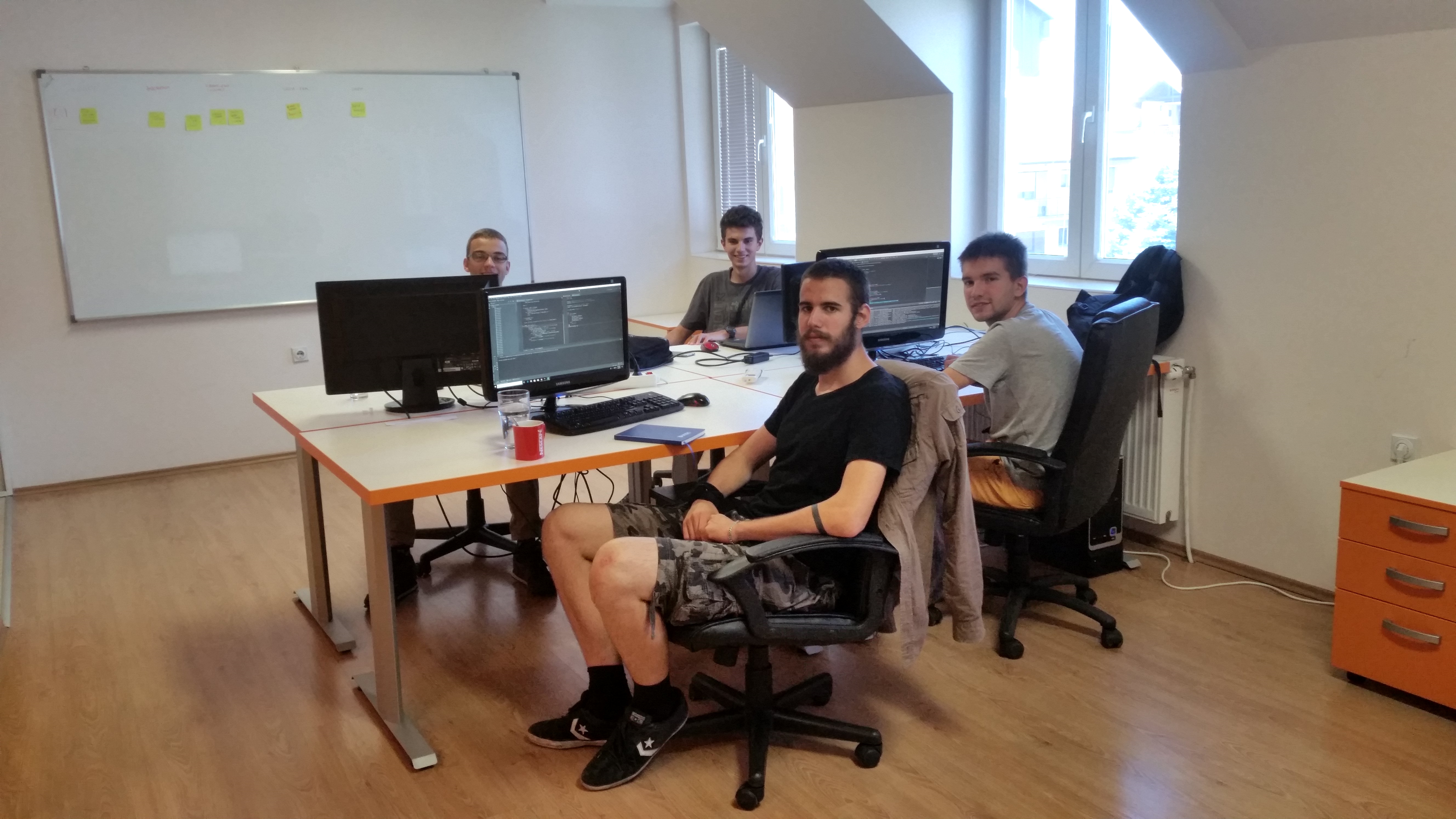 There is an interesting plot twist, though!
Our interns are actually neither university graduates, nor university students. In fact, they are high school students who attend High School Bora Stanković in Niš — NIRI's hometown.
Recently, our CEO Marko and Data Scientist Jelena visited the IT department in this high school. This resulted in an instant friendship and we at NIRI decided to show them what an amazing experience is to have a job in IT.
What is the project about?
The project focuses on Data Analytics market trends visualized using heat maps and GeoJSON. Luka Pavlović and Lazar Minić will concentrate on learning the front-end, while Vuk Bibić and Sava Filipović are the ones in charge of the back-end. Of course, they will have a great mentorship provided by Mihajlo Milijić and Katarina Milenković.
To fully understand how one professional IT worker operates, we provided some of the necessary pieces of software and equipment for the interns. They have a scrum board, as well as a personal Trello where they can also learn a lot about project management.
It looks like NIRI left a good first impression!
We were curious about the interns and decided to ask them a couple of questions.
Why did you apply for the summer internship and why did you choose NIRI?
"Our wish was to learn something new, and we consider warm summer mornings perfect for doing something productive and exciting for us.
NIRI is one of the few companies from Niš that stays updated and follows the latest technologies and trends in the world —things such as data science and machine learning. We had an opportunity to visit NIRI and decided to join for the summer internship."
What do you expect to learn?
"We primarily expect to learn more about the new technologies that we did not have a chance to come upon, and we want to practice our teamwork."
So far – what do you think about the internship and the company?
"Our expectations are met for now. We are delighted with our mentors as well as with the atmosphere in the company."
What about the mentors?
Mihajlo Milijić was eager to share his thoughts as well.
"This is a perfect opportunity for the young and enthusiastic people to learn more about the way we work. It is already clear that they will become great experts one day, and I feel obliged to show them the way. We are planning to include them as much as possible and treat them as our full-time employees. I am excited to see the first results of our collaboration! Really interesting couple of weeks are ahead of us."